Full Service Digital Marketing
What is Digital Marketing?
Digital marketing uses internet and online based technologies across desktop computers, mobile phones, other digital devices, media and platforms to promote products and services. Digital Marketing encompasses all your online marketing efforts including your website, social media, podcasts, email newsletter, Google ranking and paid advertising such as Google Adwords.
You know your business. We know digital marketing. Let us know how our business can help yours.
Why you need it
Marketing has always been about connecting with your audience in the right place and at the right time.
The way people shop and spend is not only changing, it has changed and in a very substantial way.
This means offline print marketing isn't as effective as it used to be. Yesterday meant newspapers,  phone books and magazines.
Today, it means the internet.
Why you need us
Sure, we have excellent professional results-oriented experience and we can bring the entire Web to bear, connecting you to your ideal clients, because we know their online habits.
What sets us apart is our unique insight into our economic community; we can also connect you to complimentary businesses and supportive organizations.
Need new signage or a banner? We have an expert. Would your Airbnb visitors appreciate access to a personal chef? We know two. How about professional portraits for your website & LinkedIn profile or an awesome promotional video? We know the best.
We really do connect you where it counts!
Social Media Marketing
(It's All in the Plan, Baby!)
There is no one size fits all, each digital marketing campaign is tailored to you, your business, your area, your customers and your needs. Maybe you already have a Facebook page, but like any tool, is it collecting dust in your toolbox? Is it the right tool? We connect you where it counts.
LinkedIn, Facebook, Instagram, Pinterest, whether you already have a page or need one, maybe more, we can set it up or enhance it and put it to work for you.
Plans start as low as $95/month for a single platform or chose a 3-pack ($225/month) or 4-pack ($275/month)
Email Marketing
(Hey, here's the latest 411 – tell your friends!)
Why email marketing? The reason is clear–for ten years in a row, email is the category generating the highest ROI for marketers.
Despite a bazillion tools available to marketers, email marketing is simply the best bet for business growth. For every $1 spent, email marketing generates the highest ROI.
Set up – $250 (design/layout, up to 500 email addresses)
Set up – $325 (design/layout, over 500 email addresses)
Newsletter – $75/hour
*Does not include third party email marketing software fees
Website
  (Welcome, Welcome! Stay for Dinner!)
​You've seen the ads – free website, super easy! Maybe easy for someone with experience building websites. Mostly they take up your valuable time with a steep learning curve and a lot of frustration. Don't you have much better things to do than sit in front of a computer?
Your website is not just an online rack card. It's also your 24/7 front office assistant answering the frequent questions and showing prospects why they want do business with you. It allows your customers to buy products, book appointments, sign up and pay for services. It's a way for you to manage your business and reach your market while you sleep.
3 page simple – $1250
5 pages plus – $2000+
SEO Optimization, Google Analytics – $275
Management – $79/hour (landing pages, promotions, integrate with social media or other third party systems, updates)
*Does not include graphic design work such as logo design or landing page graphics
*Does not include hosting or other third party software fees
In 2022, online mobile users accounted for 55% of all internet usage. That means your website needs to be optimized for search engines and mobile devices i.e., your website needs to be fast and user friendly. We are now offering a website assessment for $175 with $100 credited back to you with any future services with us – what a deal!
Blogging
(Raise your hand if you want more website visitors!)
Every time you write a blog post, it's one more indexed page on your website, that means another opportunity to show up in search engines and that drives traffic to your website (Yea!)
Blogs formatted with interesting, informative content and posted to your website can be shared by you and other people on social networks and email &newsletter promotions. That's three more benefits for the effort of one. Blogs help you become recognized as a subject matter expert and expose your business to a new audience that may not know you yet (Yea!)
Every blog post should have a call to action and that can generate leads or drive sales (Yea!)
Per post – $65
OTHER SERVICES
Emerge Multimedia now offers:
e-Commerce – shopping cart, payments and scheduling services. $250+
Video Creation – we can take your photos or blog content and create simple videos suitable for website and social media use. $75/hour
Logo Design – we create a stunning logo for you that is visually effective across print and product media. $350
Graphic Design – business cards, rack cards, flyers, image customizations and more! $75/hour
As a small business owner I've had to learn (usually by trial and error), how to do a lot of things myself, including creating our web site, blog and other marketing and social media efforts. However, I'm well aware that I don't know what I don't know about the intricacies of all these things. That's why I decided to get help from Emerge Multimedia.
I've known Janet and Nadine for many years and have complete confidence in their knowledge of the areas where I wanted help, and their professionalism. They combine an unparalleled understanding of the Foothills market and the best ways to connect with prospective clients with a positive approach that makes working with them very enjoyable.
They gave me a thorough analysis that outlined what was working and what needs improvement, including the things I can do myself, and ways they can support me. This is exactly what I wanted to be sure Sterling Property Services is on track for the new year.
Every small business can benefit from this kind of objective analysis, and I highly recommend Nadine and Janet from Emerge Multimedia to do it.
Nadine was a pleasure to work with, getting great feed back on the terrific website.
Absolutely the best. Amy will take care of all your marketing needs.
Great group. Everyone in my line of work needs to hire these guys!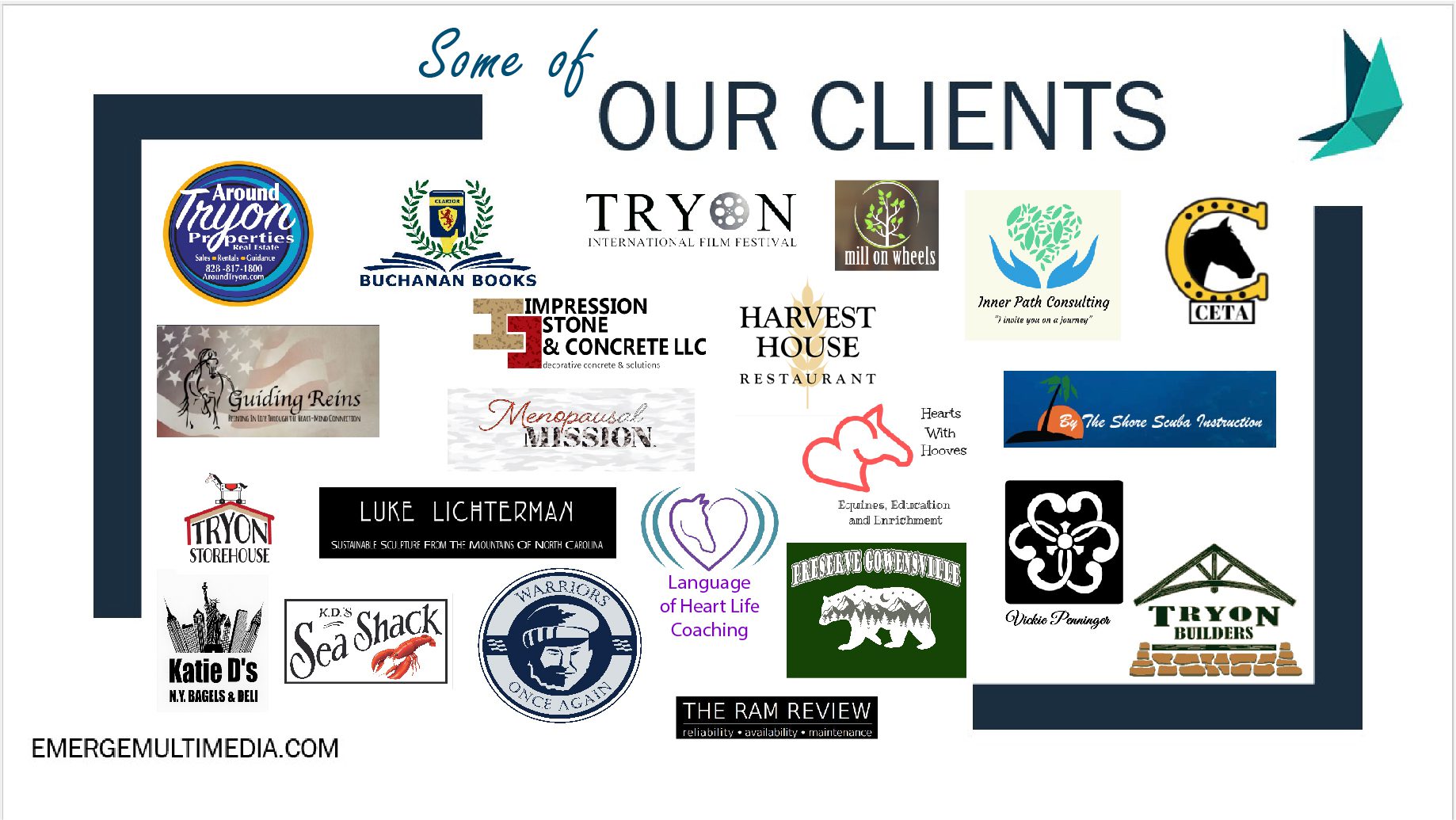 The way business survives has changed. Are you ready?