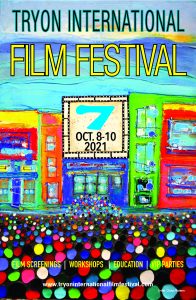 Since Emerge Multimedia, LLC formed back in 2018, we have been proud sponsor-partners of the Tryon International Film Festival. Now, for the third year we are pleased to continue that tradition with the 7th Annual Festival, October 8th-10th, in 2021. Nadine has been volunteering with TRIFF since its first year.
For the past six years, TRIFF welcomes hundreds of film fans & cinema professionals from around the world to our red-carpet, southern style. It has been fun watching our business grow and watching TRIFF grow, even through the trying times of Covid. The festival went online to offer its exceptional films streamed right into homes across the globe. The popular online feature will continue to be a mainstay of the Festival but as Co-Founder Beau Menetre says,
"This film festival generates a tremendous amount of spirit in the Town of Tryon," Menetre said. "We love hosting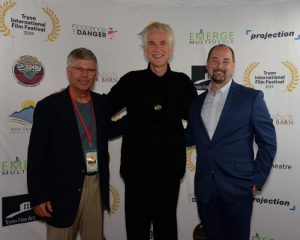 the festival, and people love to come and come back year after year. For filmmakers and patrons alike, Tryon International Film Festival offers the most-promising films on the horizon in a picture-perfect southern mountain town. You can't help but enjoy yourself."
2021 will see the foundation laid for the Tryon International Film Festival – Gstaad, Switzerland Edition in a unique collaboration with Homayra Sellier, founder of Innocence in Danger (IID.) IID is an international child protection organization, operating in eight countries (France, United Kingdom, Colombia, Germany, Switzerland, United States of America, Austria, Iran and Morocco.) Sellier has been a judge with TRIFF in the genre of Human Rights and Dignity for a number of years.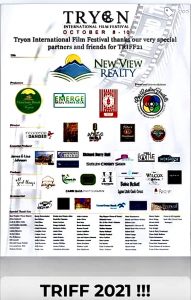 In addition to providing website and other digital marketing support EMM also enjoys volunteering for the TRIFF annual fundraisers. This year the major fundraiser was A Cajun Occasion held June 6th at Mountain Brook vineyards. It featured a Food Network-style gumbo cook-off between Beau Menetre and South Carolina Chef Ambassador Sarah McClure. Shane Pruitt and Max Hightower provided the music.  The winning design for the 2021 festival poster was revealed. But most importantly – Ashley Menetre and a platoon of volunteers provided the food: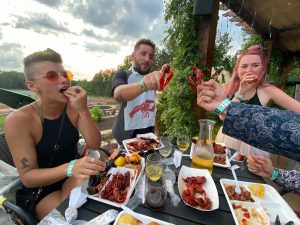 Muffuletta Bites, Alligator and Pork Boudin, Hot Crab Boiled Potato Skewers, and Cajun Boiled Crawfish round out the appetizers with a main fare of Creole Red Beans and Rice with Tasso Sausage, Western north Carolina Upcounty Boil (shrimp, corn, andouille sausage & potatoes,) Mountain Brook White Wine & Garlic Italian Herb Mussels, Southside Smokehouse Pulled Pork, and Spring Grilled Mixed Vegetables.
With sides, desserts and samples of the competition gumbo, anyone who walked away hungry just wasn't trying! Oh, and Menetre's Gumbeau was favored by 3 out of 3 judges in the cook-off.
The entire Town hosts the TRIFF event, screening 80+ feature-length, short, and documentary select films at six venues over three days. Meet professional and student filmmakers from as far away as Nepal at the many planned social and VIP events at restaurant and gallery venues all around town. Many filmmakers attend their screenings and invite Q&A from the audience. Come once and you will understand why so many come back year after year and call TRIFF the filmmakers' film festival. Join us in October for an unforgettable cinematic event.